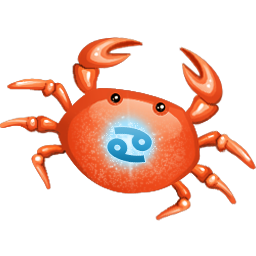 Cancer Dates & Horoscopes
Also Known As: The Crab
Dates: June 21st - July 22nd
Element: Water
Ruling Planet: The Moon
Star Sign Stones: Emerald & Ruby
Personality Traits - Female
The female Cancer often swings from mood to mood, happy or sad, you can be sure that it won't last forever. Not one for wild extravagance, she will look after her money and looks for a stable home, this is often caused by a little insecurity which is hidden under the outer shell. She is patient and willing to wait for the good times, but will work hard to ensure that they do come.
Personality Traits - Male
The male Cancer is generally taciturn, considered, slightly pessimistic and insular in personality, with occasional niggly moments. Good with finances he will be a saver rather than a spender, but when he does spend he will want value for money and good quality products and services.